Home » Key Benefits of Wing IDE »
Serious Python developers should take a serious look at Wing IDE -- Doctor Dobb's Journal, June 2008.
Doctor Dobb's Journal, June 2008
Mike Riley reviewed Wing IDE in his article Wing IDE Professional 3.1.1: An IDE for Python for DDJ. The article calls Wing IDE "an excellent, highly productive environment that will no doubt accelerate development time" and says that Wing IDE's "extensive debugging capabilities coupled with its non-obtrusive code intelligence bundle make it a compelling tool at a reasonable price."
Utah Python Users Group, September 2005
The Utah Python Users Group hosted an IDE shootout that compared six Python IDEs. The reviewers called Wing "the most polished of the IDEs here" and said "there are fewer oversights and more of the small touches that indicate quality". The review was later updated for PyCon 2006 for four of the originally reviewed IDEs, including Wing.
Linux Enterprise, October 2002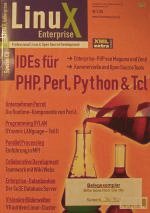 Wing IDE Lite (since renamed Wing IDE Personal) version 1.1.4 was reviewed by Thomas Kaufmann in a German language article called "Das Leben ist eine Baustelle" (Life is a Construction Site). This article reviewed three Python IDEs and found Wing to make "a very good overall impression" and to be "stable and fast". The author praised the search manager, editor, interactive shell, and our extensive documentation. "Despite the feature constraints in this version of Wing [Wing IDE Lite], it is a powerful IDE." See Linux Enterprise for more information (article not yet available online).
InformIT, September 2001
Wing IDE was mentioned as "a real power tool to use for the development and debugging of complex Python applications". Even though this article focused on comparing two of our competitors, it said that "for hardcore coding, there's nothing to beat [Wing IDE]". See "The Age of the Commercial Python IDE: BlackAdder and Komodo Compared" by Boudewijn Rempt on informit.com (search on "Wing IDE"; you must register to see the review).
Linux Format, March 2001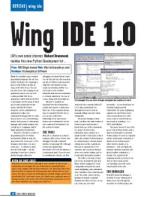 Wing IDE for Linux version 1.0 was reviewed by Richard Drummond in Linux Format. This review found Wing "impressively quick", said that Wing's editor is "fast and configurable" and "does not disappoint", and called the debugger "a major selling point". Wing IDE was summarized as "a solid suite of tools that will turbocharge your Python development." For details, see full text of this review (PDF).
Charming Python, January 2001
In this early review of several Python IDEs, Dr. David Mertz, said Wing IDE "has the making of a quite nice IDE", that the "source code browser is wonderfully useful", and that "the debugger is well arranged". The reviewer encountered stability problems on a distribution of Linux we weren't supporting at the time, but these problems have long since been fixed. For details, see full text of this review (HTML).
InformIT, November 2000
Wing IDE for Linux version 1.0b2 was reviewed on informit.com in a review called "A New Harvest of Python IDEs", by Boudewijn Rempt. Keep in mind this was a very early version of Wing IDE, although even back then it was said that "the Wing IDE source browser is simply fantastic".